FREE SHIPPING PLUS 50 FREE Thermal Covers
(1/8″ Clear Front and Black Linen Back)
The Pro Bind 2000 is designed for organizations that are looking for a machine that is both dependable and easy to use. This system offers the ability to bind documents up to 2″ thick in just seconds. The cycle time is 30 seconds for a soft cover and 60 seconds for a hard cover book. This machine is built out of metal which makes it incredibly durable. The Pro Bind 2000 is sure to exceed all your expectations!
Pro Bind Utility Covers
Covers have a clear front to display the title page, and a linen paper back cover for a distinguished appearance.
Utility Binders are available in spines up to ½". Easy to use.
Excellent choice in schools to allow students to use their imagination to create personal journals.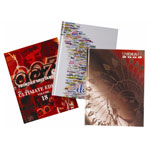 Pro Bind Hard Cover
Hard Cover Thermal books will look polished and professional. Let the school create their own Yearbook while empowering the students and teachers to design, create and implement.